Youth Synod
Pope Francis Asking the Youth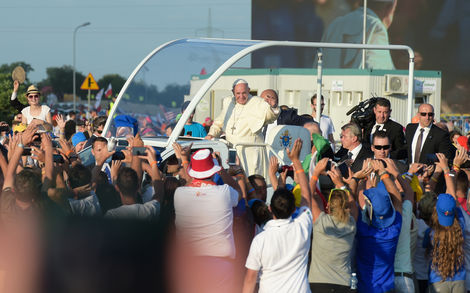 What Is This About?
The Synod of Bishops advises the Pope. The Synod will be attended by Bishops elected by the national and regional Episcopal Conferences. From 3 to 28 October 2018 the Ordinary Assembly of the Synod of Bishops will meet on the theme "Young People, the Faith and Vocational Discernment."
The Road to The Synod
In a letter to all young people—by which Pope Francis means the 16 to 29 year olds—, he wrote that the Synod expressed his will to put them in the "centre of interest". The preparatory document substantiating the themes of the Synod appeared simultaneously with the letter. The chapters are called "Young People in Today's World," "Faith, Discernment, Vocation" and "Pastoral Activity." Moreover, a questionnaire is attached to the letter. Participation was possible until the end of December 2017.
Young people from all over the world, Catholic and non-Catholic, were invited to a pre-synod from 19 to 24 March 2018. Pope Francis wanted to hear what young people think about life and faith. BDKJ Federal Chairman Thomas Andonie was present as one of two young adults nominated by the German Bishops' Conference.
While the delegates discussed at the pre-synod in Rome, young people could express their opinions online. All young people between the ages of 16 and 29 were invited. The 300 questions asked were the same as those discussed at the Pre-Synod in Rome. Participation was possible in this Facebook group, which will remain open for information until the Youth Synod in October.
Resolution
In June 2017, the BDKJ Main Committee decided on a basic document on the Youth Synod called "Making participation possible—young people's expectations of their church."
The Voice of the BDKJ
So far, several BDKJ press releases on the Youth Synod have been published:
Further Information